NAPLES, FL DUI LAWYER
In crashes involving drunk drivers, DUI attorneys are often faced with the additional task of proving the driver was impaired by alcohol or drugs.  Prosecuting and defending DUI cases has given Attorney Donald P. Day a broad perspective in handling these cases.
In the State of Florida, a driver can be charged with a DUI for drinking alcohol or taking drugs.  In a drug crime case,  proving that the driver was impaired by drugs can be difficult. Medical or toxicology records can be very helpful; however, they aren't often available. A police officer who is trained as a Drug Recognition Evaluator can be extremely helpful in meeting this burden. Our attorneys worked with trained DRE experts for years to assist in determining a driver's impairment from drugs.
GET RELIABLE GUIDANCE FROM A QUALIFIED NAPLES DRUNK DRIVING LAWYER
Thanks to our vast knowledge, experience working with Florida's top Drug Recognition Evaluators, and commitment to helping accident victims recover fair compensation, we are qualified to handle even the most complex cases involving drunk driving in the Naples, FL area. We will advocate fiercely for your rights, conduct a thorough investigation, and go above and beyond in any way we can to gather sufficient evidence to prove your case.
WE WILL FIGHT FOR YOUR RIGHTS
Unfortunately, the negligent and reckless actions of those who choose to drive while intoxicated result in serious or even fatal consequences for innocent victims. If you or a loved one has been involved in a crash caused by a drunk driver, you should be able to hold them responsible and pursue the justice you deserve. Here at The Law Office of Donald P. Day, we'll work tirelessly on your behalf to ensure that you are compensated for any injuries or intangible damages that resulted from the drunk driving accident.
DRUNK DRIVING DEFENSE IN NAPLES, FL
Donald P. Day represents clients who are charged with driving while intoxicated in Naples, Fort Myers, and the surrounding towns and counties of Southwest Florida.
The firm has a substantial history of defending DUIs. As a prosecutor and defense lawyer, Mr. Day has seen many defenses in the complex matter of DUI defense. Mr. Day was a founding member of the National DUI College conducted at Harvard University. He has also been named among the 100 best DUI lawyers in Southwest Florida. Further, he has prosecuted and defended over 3,500 DUI cases. Criminal Traffic matters Mr. Day handles include:
DUI
Reckless driving
Felony DUI
Driving while license suspended
Violations of driver's license restriction
Leaving the scene of an accident
Fleeing and eluding
Speeding tickets
All other traffic tickets
If you require a legal defense against DUI charges or traffic offenses, please contact the office to learn more about how we may be able to assist you.
DEFENDING AGAINST DUIS IN FLORIDA
In Florida, DUI penalties are extremely serious and the chart below reflects some of the penalties for first, second, third and fourth DUI cases: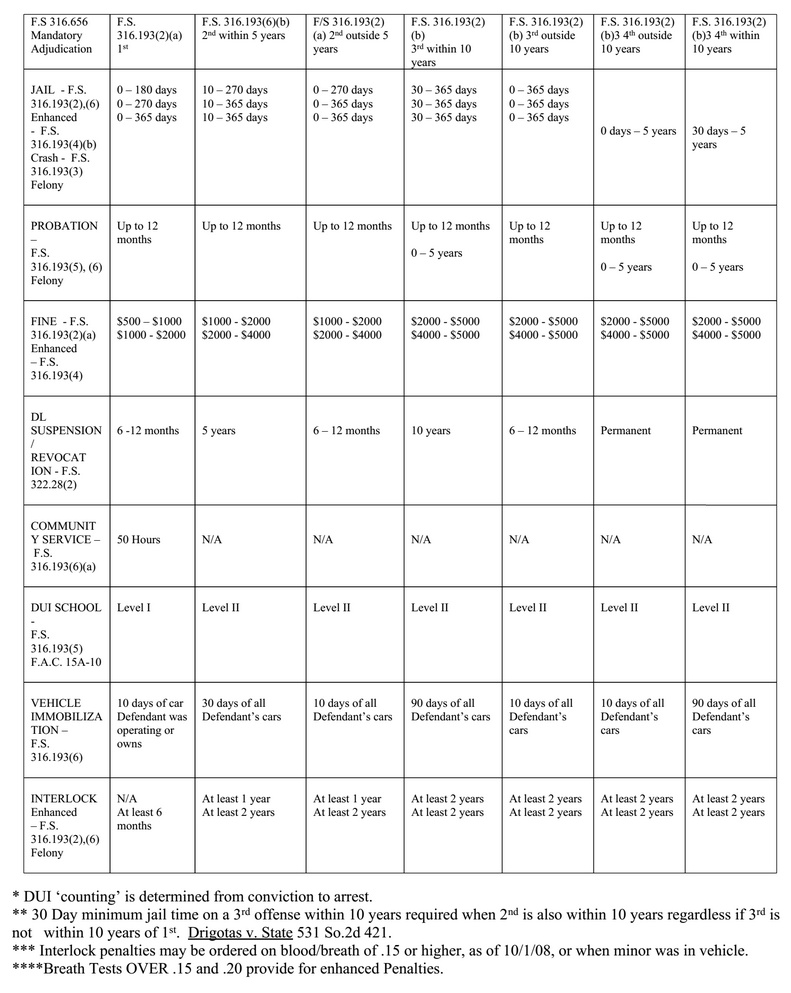 Not only are the consequences of a conviction determined by Florida law, but there may be other repercussions, too, such as loss of eligibility for occupational licenses or professional advancement. Your ability to care for yourself or your family may be severely curtailed by the loss of a driving privilege, also.
It's better to avoid these consequences altogether. If you are charged with a DUI, please call us today.
Call 1 239 529-6053 for Naples drunk driving defense.
Donald P. Day represents clients who need criminal defense in Naples, Fort Myers, Alva, Bonita Springs, Cape Coral, Estero, Everglades City, Fort Myers Beach, Golden Gate, Immokalee, Lehigh, Marco Island, North Fort Myers, and the surrounding towns of Lee and Collier counties.
SCHEDULE A FREE CONSULTATION WITH AN EXPERIENCED NAPLES DUI ATTORNEY TODAY
If you or your loved one is injured due to an accident with a drunk driver, call the Law Office of Donald P. Day. We will fight to recover the compensation you need and deserve. Get your free consultation today; either call (239) 529-6053 or fill out our online contact form to request an appointment now.